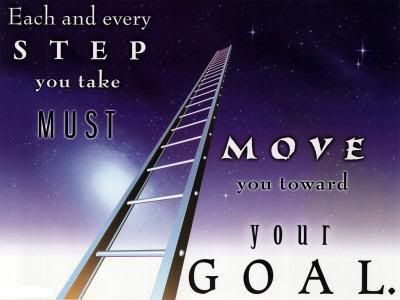 I've been planning to write this post all month, and as you can see, I am barely squeezing it in at month's end! I typically love the New Year and all of the hope and promise it brings. Promise for new things, changes, adventures. I have set "resolutions" or at least had ideas of what things I wanted to do different each year, some which happened and many which did not. I can contribute most of this to not having a written goal and plan in place for what I hope to change. I have been inspired by many in the blogosphere whom I read regularly to sit down and write out a plan, a map of change for myself and family this year. And I think I'm entering the "nesting" phase of pregnancy where I want to totally overhaul all parts of my life. I know I have to be realistic here and that I can't accomplish everything. But I will get much further with a PLAN!
I chose specific areas of my life I want to improve upon and set goals accordingly. With the New Year already in full swing, I have already set to work on some of these goals. Here is what I have so far that I hope to work towards and accomplish in 2012.
Parenting

Plan for weekly one on one time with each child either for an outing, a special activity or "date".
Read 3-4 Parenting books & implement changes when necessary.
Continue daily reading with each child.
Continue daily Children's Bible reading.
Callie-Work on Alphabet and Color recognition.
Take children to Sea World before baby arrives. Planning on it Spring Break!
Put together a rough Summer schedule to keep us all happy & sane with all 3 kids being at home!
Keira-Put together a chores chart and assign allowance for certain responsibilites.
Marriage
Pray for my husband daily.
Have date night once per month.
Take 2 overnight trips (1-2 nights), one before baby and one after.
Read
"Power of a Praying Wife"
.
Read
"The Five Love Languages"
together.
Remember the little things to make his day easier- making his lunch, taking dry cleaning, ask about his needs.
Plan our 10 yr anniversary trip (August 2013).
Personal Growth
Read the Bible in one year following the
Chronological Plan
. I've attempted many times, maybe this will be the year!
Read 12 books this year as part of my Book Club with friends. Each book is chosen monthly. I already read our Jan book and got my February book at the library today!
Read all of the books on my 2012 book list (Will post this soon!)
Continue with Pregnancy yoga and/or walking 3 times per week.
Get back in shape after the baby arrives in April!
-Work out 3-4 times per week after doctor clearance.
-Begin walking after week one.
-Try the
Tracy Anderson method
Stick to a consistent bed time and wake up time. Bed by 10-10:30pm!
Wake up before the kids daily to work out or get 30 min quiet time and reading.
Learn to use my sewing machine. Take 3 sewing classes. Do 3-4 projects on my own.
Organize my photos from my phone, computer, online accounts and print or archive all photos. Put birthday photos and other special events into albums.
Continue Beth Moore study of "James" this winter and attend new one in Fall.
Financial

Committ to tithing 10 % to our church.
Continue campaign promise for new school on church campus.
Pay off any outstanding debts.
Start using cash only envelopes again-we did this in 2010 it worked great.
Start saving for our 10 yr anniversary trip (August 2013).
Plan & save for Disney vacation with the kids for Fall 2012 or 2013.
Increase 401k/IRA contributions.
Open Roth IRA.
Open 529 college accounts for the girls.
Continue to seek part time income streams.
Mom groups/Church/Jr League/Volunteerism

Begin attending Sunday school class for married couples.
Volunteer once per month in children's classes at church.
Fulfill Jr League volunteer responsibilities.
Host bi-monthly playdates.
Homekeeping

Continue with weekly meal planning.
Implement a weekly & monthly cleaning schedule.
Keep up with the
52 Weeks to an Organized Home Challenge
.
Manage weekly paper influx from school, mom groups, church. No pile-ups!
Begin the switch to more whole wheat, natural sugars etc in recipes.
Experiment with new recipes weekly.
Organize recipes and create Recipe Binder.
Plan and prepare for Organic Spring garden. Goal is to have garden planted by April 1st!!!!
Plant 2-3 trees.
Landscape front flower beds.
Liven up the house & improve air quality by bringing in 2-3 live plants into the home.
Business/Blogging

Keep up to date on all monthly billing/invoices and accounting.
Begin monthly status reports.
Set up specific office hours/days.
Create a weekly blogging plan.
Write 3-4 posts per week.
Do at least one series post.
Find a new blog design.
Switch blogging hosts.
Whew! What a list! In addition, I have several home projects I hope to work on this year. Many of them I want to have completed before baby boy arrives, as I know my time and sleep will be limited for a while! I'm working on this project list now and hope to have it complete soon!
In order to accomplish many of these goals for the year, I have to have monthly goals that help me reach the end goal. Since this will be on going, I hope this blog will help to keep me accountable and I will post updates on how I'm doing!
Okay now, off to bed before I miss my "go to bed on time" consistently goal!