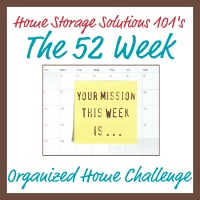 This week
Home Storage Solutions 101
has begun their series called "52 Weeks to an Organized Home". I'm very excited to participate in this challenge!! I have several areas of my home that really need attention, may it be just general straightening or some serious over-hauling!!!
She has done a lot of work planning ahead and listing out each week what the focus area will be. We can follow along in the order listed or skip around and focus on what needs to be done in our own homes. You can click on the link for that week to get more details and ideas on getting this area clean and organized. The first week challenge is:
Week 1:Kitchen Organization- Countertops and Sink
I really needed this motivation to get me going. With 2 kids and another on the way, it's easy for me to get overwhelmed by all of the household tasks needing attention.
For even further help & inspiration, you can visit the "hall of fame" on her site and show/share your before and after pictures of what you've accomplished. I will share my own personal completed challenges here as well :) I can't wait to have a more organized home!!
Won't you join me!?